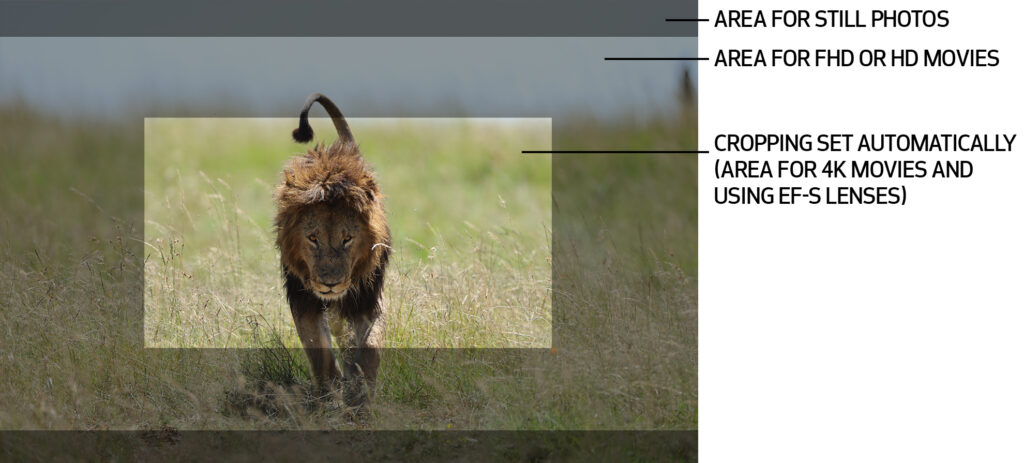 A friend asked me to recommend a compact digital camera that can used for regular photoshoots, vlogging and video calls. In response, I asked him how he felt about cropped 4k recording. He's a very tech-savvy person so I knew that would matter to him had he learned about the camera's limitation during use. He did not answer back immediately, which is exactly what I expected. The whole crop-factor business can be confusing because it's never straightforward.
I'm not going to spend time on explaining the difference between cropped and full-frame censor cameras, as the internet is already full of such content. What I do want to address here is the fact that people who buy a compact full-frame camera don't realize a hidden problem. Camera manufactures love to highlight the 4K recording capability, but hide important details in spec sheets that most don't bother to read. 4k recording with a cropped factor can really push you back, literally.
Imagine you're hosting your kids birthday party and have been taking lots of photos with a 35mm prime lens (can't zoom). You then switch to video mode to record the cake cutting ceremony. Depending on the camera's video recording options, you'll be surprised to learn the view is zoomed in and you need to move back further to fit into the same view as the photos. Imagine a scenario where lack of space would not permit you to step back as needed. Yes, that's why people use zoom lenses, but prime lenses do a lot better in low light conditions because lower f-stop configuration means you get a brighter, sharper and low noise image.
Sony A7c ($1,799.99 for body only), Alpha 7c Compact Full-Frame Camera, peaked my friend's interest. He was also looking at the 20mm f1.8 G series lens, which should be a good fit for his small dark room and for vlogging or video calls. I explained to him that the 20mm lens will be like a 24mm lens if he records 4k at 30p because the camera utilizes less of the full sensor to compensate for 30p recording with a 1.2 crop factor (20mm x 1.2cp = 24mm). The camera can also record full-frame 4k at 24p, which has the film feel but I preferred 30p because panning scenes appear smoother. He agreed. Sony A7c's 1.2x crop factor is not bad actually.
On the other hand, had he considered Canon EOS RP ($999.99 for body only), albeit about 20 months older and $800 cheaper as of 1/21, he would've had a crop factor of 1.76x at 25p for 4k recording. Ouch, now that would have been a real pain in the butt! That said, $800 dollars could be used to buy a lens or two.